Learning from Home update
Last Updated: 1.30pm Tuesday 26th May 2020
A message from the Principal - Jim Laussen
A message from Head of Student Services Tim Jezard
FAQs - Returning to face-to-face learning
When will students return to face-to-face learning?
The College will have a staged return to face-to-face learning for our students and staff.
Stage 1: Tuesday 26th May, 2020
All students Prep - Year 2 and Year 11 & Year 12 return to normal face-to-face learning. All other classes remain as Learning from Home.
Year 10 students who are studying a VCE Unit 1 subject are able to attend school for all or part of each of the days on which those Unit 1 classes are timetabled. When not in their Unit 1 class, students will be supervised at school for their Learning from Home or they can go home with parent permission.
All Prep to Year 2 students will be dismissed each day at 3:00pm to ensure we do not have collection of all students together at 3:20pm when Senior School classes finish. For College consistency, this will be the case on both campuses.
Stage 2: Tuesday 9th June, 2020
All students Year 3 – Year 10 return to face-to-face learning.
Additional details of the staggered start and conclusion to each day will be provided in the week prior to 9th June.
Is there a new drop off/pick up location for Junior School Students?
Yes. Please see the below maps that show where to drop off our Junior School students and which zone they should move to.
KEILOR CAMPUS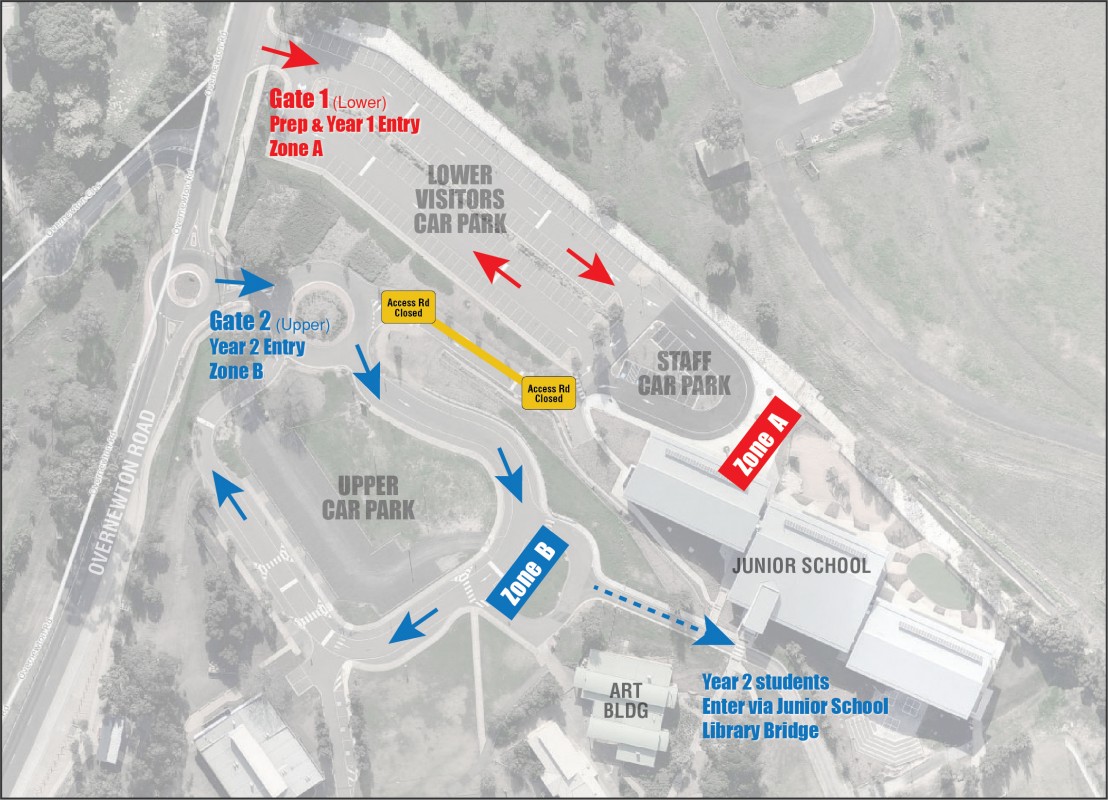 TAYLORS LAKES CAMPUS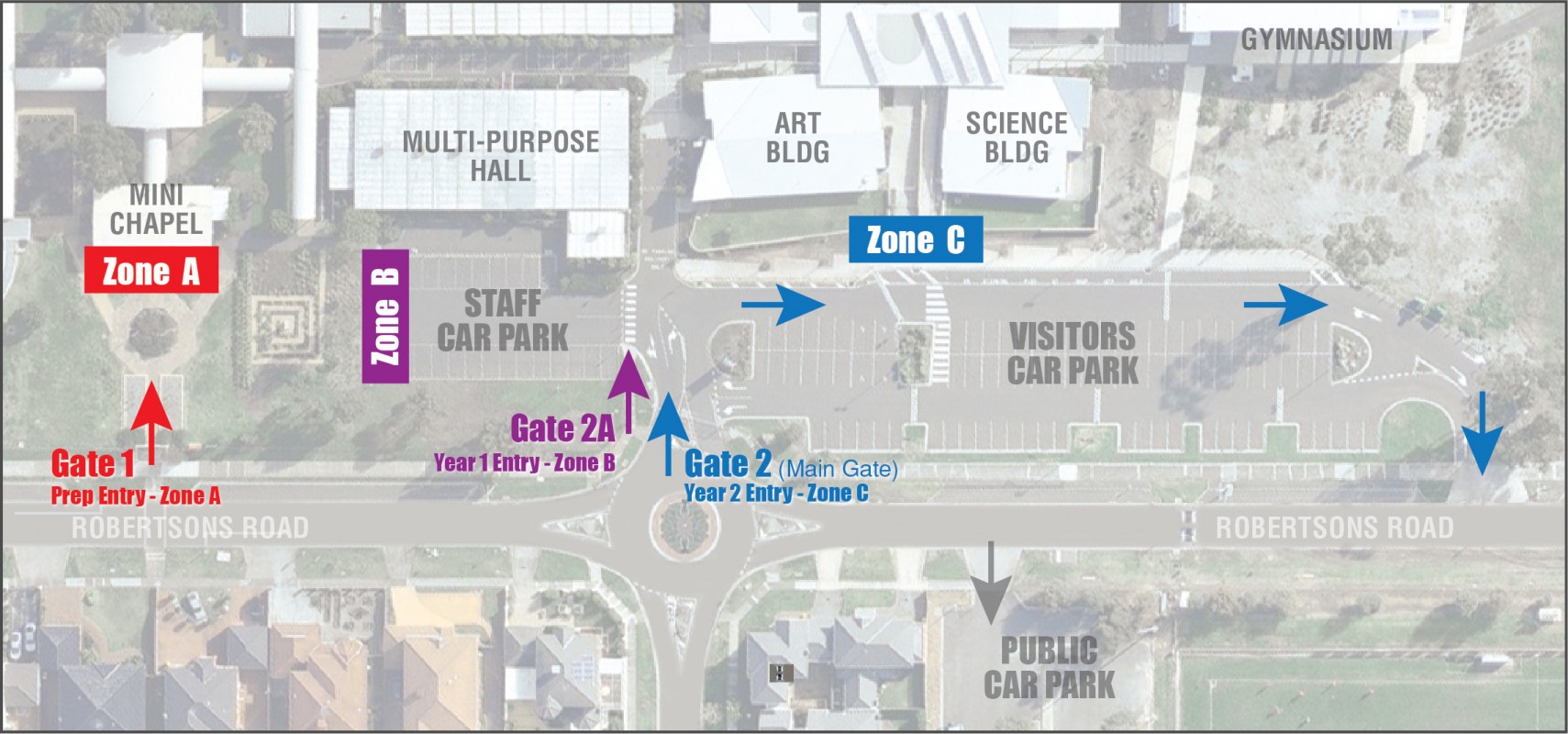 Will the College be providing supervision for children of essential services workers?
The provision of supervision at school for students who cannot learn from home continues until their classes return on either Tuesday 26th May or Tuesday 9th June. From 26th May this supervision will be available for students at either Keilor Campus or Taylors Lakes Campus.
We know that some parents of students in Prep - Year 2 and Years 11 & 12 may still wish to keep their children home from school due to concerns about COVID-19. Although we do not encourage this, it is an acceptable decision.
Will a Learning from Home program be provided to students after face-to-face teaching has resumed?
No. Since teachers of students in Prep - Year 2 will have resumed face-to-face teaching, Learning from Home will no longer be provided to Prep - Year 2 students after 26th May, nor will it be offered to students in Years 3 - 10 once face-to-face teaching commences for these students on 9th June. It is not feasible for teachers to maintain both systems and ensure the best delivery of our curriculum. This decision follows State Government guidelines for schools.
Parents and carers of children with complex medical needs are encouraged to seek medical advice from their health practitioner to support informed risk assessment and decision-making regarding the suitability of onsite education for their child.
How do I contact the school to get assistance with my child's Learning from Home program?
Simply complete our easy online Parent Contact Form here and your enquiry will be directed to the appropriate staff member to support your child's learning.
How is the College managing Health and Hygiene for students and staff during face-to-face teaching?
There will be an increased level of cleaning throughout the day in all areas of the College but with a focus on areas subject to high levels of physical contact. In addition:
All staff will be supplied with hygiene kits including hand sanitisers, disinfectant spray and wipes
Extra hand washing stations will be placed throughout the College
As all water fountains will be closed, we ask that all students bring a full water bottle each day
To decrease crowding and handling of money, the canteen and cafeteria will be open for online orders only. There will be no sales on site of any products, including drinks. All students are asked to bring their own snacks and lunch, where possible.
All students will have designated areas throughout the College at recess and lunchtime to ensure a degree of physical distancing
Physical distancing by separating desks will occur, where possible
Parents are reminded to keep any student home who is presenting with cold or flu like symptoms and to inform the College
What is happening with Sport, Camps, Excursions and Assemblies in Term 2?
Sport afternoons will commence for Years 7 - 8 from 9th June but in a modified structure to facilitate good health and hygiene. Students in Years 9 - 12 are to go home on the afternoons of scheduled ACS sport or they can remain at school to study only.
ACS and the Year 5/6 competitions will not resume this term.
No camps will take place until further notice.
No large assemblies nor large Chapel services will take place until further notice.
Will there be changes to the upcoming School Holiday period?
No. The three week break will take place as scheduled, from Sat 27th June – Sunday 19th July, inclusive. Dates of school holidays are required to be set 12 months in advance so cannot be changed.
Does my child need to wear School Uniform when they return to face-to-face learning?
Yes. Students are requested to return to school in their normal winter uniform and adhere to the College policies on personal presentation regarding shaving, hair, make up and jewellery. Sports uniform is expected when playing sport or taking part in PE.
Is the on site College Uniform Shop open?
No. In line with our current policy of parents not coming on site, the College Uniform Shop will not be reopening on Keilor Campus until further notice. Ample stock of uniforms is available for purchase at Noone Imagewear, 43 Keilor Rd Niddrie. Noone's have extended their trading hours to allow for this. Please contact Noone Imagewear's Niddrie store directly via their website or via phone on 1800 339 570 for further information
Will the dedicated Overnewton Bus Service be running in Term 2?
Yes, however our dedicated bus services will not be available until Tuesday 9th June. Public Transport services will continue. Information about safe travel on buses will be available next week. Students are encouraged to walk or cycle if possible.
Will parents be allowed to enter the College?
Unfortunately, parents will not be able to come on site until further notice, unless invited to do so. Therefore, if a child is driven to school, they are to be dropped off at their car. Staff will collect children in Prep - Year 2 to take them to their classrooms; parents will not be able to do this.
Specific details about collection at the end of the day will be provided by Heads of Schools.
Can documents still be hand delivered to the College reception?
Any documentation must be sent electronically or via Australia Post rather than dropped at our Campus receptions;
Teacher conversations will be conducted over the phone or via Microsoft Teams by appointment, as per the communications guidelines
Parent support group (PSG) meetings continue to be conducted remotely
How is the Family Involvement Program impacted?
The Family Involvement Program has been suspended until further notice. Parents that have committed to an activity with their relevant workgroup coordinator in Term 1 will receive credits towards those hours.
Are there any confirmed cases of COVID-19 at the College?
There are currently no known diagnosed cases of COVID-19 amongst our students or staff.
How do I contact the College with questions about COVID-19?
Please continue to use the COVID-19 email should you have any questions that you wish to raise with the College.
Where can I update my contact details?
Families can update their contact details either by emailing Bettina Allen click here or via the Parent Portal click here
Will College facilities remain open for 3rd party use?
No. External providers have been advised that College facilities will no longer be available to hire at the moment.
Are our builders still permitted on our sites?
Yes. Given that the building sites on both campuses are technically not our property and that the builders do not have access to any of our facilities, there is no concern about the builders being on site.
FAQs - Senior School return to face-to-face learning
What will the first day back at school look like?
All Year 11 and 12 students are expected to attend Mentor time in person at 8:30am on Tuesday 26th May (this will be an extended Mentor time with Period 1 starting at 9:00am).
Period 2 is a Pastoral Care period. Both sessions will be led by Mentors who will provide students with detailed information about important changes and measures the College has put in place to protect staff and students.
Mentor Check In will remain on Stile for the next two weeks. Students are to Check In as they have been at 8.30am each day whether they are on site or at home.
Will there be extra health and hygiene practices in place?
Yes. The College asks the following measures are adopted by students:
Try to maintain physical distancing as much as possible. There should be no hugging, handshaking and common sense is to be used at all times.
Use the hand sanitiser stations provided and/or wash your hands thoroughly at regular times throughout the day. Toilets will be cleaned every day between recess and lunchtime.
Students will need to bring a refillable bottle of water to school each day. Drinking taps and water fountains will be turned off, although the bottle refill will be available.
What if a student is feeling unwell?
Students are expected to stay at home if they are feeling unwell or have a cough, cold or temperature higher than 37.5 degrees Celsius. If students become unwell during the school day they will be assessed by First Aid (including temperature check) and follow up will be communicated to families by the College Nurse.
Can parents come onsite during this time?
No. Parents dropping off students are expected to stay in their vehicles as they are not to come on site.
Can students still use their locker?
Yes. Lockers will be utilised to keep students' belongings safe and secure. Students are encouraged to bring in only the materials required for each day and to use digital resources where possible. Lockers should only be accessed before school, at recess, lunchtime and after school. Students are expected to minimise the time they are at their lockers. It is important that students do not wait at their lockers for their peers, this will help to promote physical distancing.
Are there new ways to move around the Senior School buildings?
Yes. Students are to follow signage and directions in relation to entries and exits and movement throughout the Senior School buildings.
Can the Canteen be visited during the day to buy snacks or drinks?
No. The Cafeteria will be open strictly for online lunch orders only. Collection of lunch orders will be coordinated at different points in the Atrium for each year level.
Can students 'drop in' to the IT Help Desk?
No. Students must raise an IT HelpDesk ticket for any issues and await a response rather than visit for 'window' service. As such students should install College emails on their mobile phones if possible and/or familiarise themselves with accessing email through the College Intranet, via a device that is not their MacBook.
Will students now attend Chapel and Assemblies in person?
No. Assemblies and Chapel will take place online for the remainder of Term 2 and will be supervised by Mentors during the scheduled period in the Timetable.
Are the dedicated Overnewton bus services currently running?
No. Overnewton bus services will resume from Tuesday 9th June. We understand that this may create some challenges with accessing public transport, please keep your Mentor informed about potential issues with punctuality.
Do students still need to sign in at Reception?
Yes. Year 12 students are expected to attend school in time for their first class and must sign in at Senior School Reception. Students who are coming onto Campus after 8:40am for this reason are expected to engage with Mentor Check In remotely.
Year 12 students are to remain on site until their last class or commitment for the day is complete and may then sign out at Senior School Reception as usual.
Year 11 students studying a VET subject will still need to sign out at Senior School Reception.
Do students need permission to sign out early?
Yes. Year 10 and 11 students signing out early will need to ensure written permission has been received by emailing Senior School Reception at keilorabsence@overnewton.vic.edu.au.
Do Year 10 students need to attend school for Unit 1 classes?
Yes. Year 10 students undertaking a Unit 1 subject are encouraged to attend school on the days of their Unit 1 classes. These students are welcome to be on site the entire day and will have an area dedicated to completing their Year 10 'Learning from Home' classes. However, they are only permitted onsite on the days that they have a scheduled Unit 1 class on their timetable.
Will there be any changes to student timetables?
Yes. There are likely to be some room changes on students' timetables. These will be available on the intranet on the first day back and will need to be checked carefully.
Will Catch-Up Classes now be available?
Yes. Catch-Up Classes will resume on Mondays and Thursdays after school to support students with their academic program.
Will assessments still take place as scheduled?
Yes. School Assessed Coursework and School Assessed Tasks will proceed as normal according to the SAC Calendar - any minor changes will be communicated by teachers. This includes SAC's which are scheduled for Unit ¾ classes on Wednesday afternoons.
Will ACS and other Co-curricular activities resume face-to-face?
ACS will not occur in a face-to-face setting, however, Year 10 and 11 students are expected to continue to engage with virtual 'Bus Rides' and the wider Online Co-Curricular Program, which they can access via Stile.
Year 12 students are encouraged to participate to promote their overall health and wellbeing.
Do students need to wear their school uniform?
Yes. The uniform and appearance expectations in Senior School remain as outlined in the College Uniform Policy. This includes Year 12 jumpers which, as communicated by Mr Laussen, are allowed on Wednesday and Friday only. We understand that we are moving into colder weather, so we encourage students to wear thermal under layers however these should not be visible including through shirts. If families have difficulty accessing any part of the Uniform please advise the Head of Senior School in writing and the College will provide support where possible.
Online Co-Curriculum Launch Video
FAQs - Online Co-Curricular Program
Will the Online Co-Curriculum Program continue once we recommence face-to-face learning?
Yes. Many aspects of the program will continue for students in Years 3-12 who are currently still engaging with our Learning from Home Program. The wider Co-Curricular program (online and/or face-to-face) will be mapped out and will roll out at the commencement of Term 3. Further information will be shared closer to the time.
What is the Co-Curriculum and why is engaging in this program important during this period of Learning from Home?
The Co-Curriculum at Overnewton is defined as any activity which takes place 'beyond the classroom.' At Overnewton, these activities fall into four pillars:
Encore – Instrumental Music and Theatre
Activate – Sport
Synergy – Community Service and Service Learning
Be Heard – Debating and Public Speaking
The Co-Curriculum can be a great outlet in this time of isolation. We want to broaden your opportunities and experience, foster success and have some fun together! We want to provide a space for relationships to build with like-minded teachers/students/coaches and embrace this opportunity to do things a little differently.
Is the Overnewton Online Co-Curricular program compulsory for all students?
No. At Years 5-11, participation in the Core Program is compulsory during the regular Co-Curricular blocks which take place during the timetable. Year 12's will have an option to be involved in the Core Program on Wednesday afternoons. Students from Years 5-12 can take part in a range of voluntary programs too.
What flexibility is offered to Year 12 students who wish to engage in the Online Co-Curricular Program?
Year 12's have the freedom to engage in as much or as little of the program as they wish to.
The Co-Curriculum has always been about complementing a student's academic program, not distracting from it. During the period of home learning, we want to take the pressure off our Year 12 students and will be removing the compulsory 100 points Co-Curricular requirement.
Year 12 students will be aligned to the Stile groups of the programs they have already selected for 2020. If students wish to make a change, or join a group, please email Co-Curricular Administrator Tracy Wright via email
Having Year 12 students involved enriches our programs and we encourage that you embrace the opportunity to engage in programs and activities which really appeal to you.
Will the Co-Curricular Program take up a lot of my child's time?
The programs on offer are not designed to be time intensive and there is a lot of flexibility to complete activities within your own space and time. Lessons can be repeated too.
We have tried to model the timetable as closely as possible so students will engage in the CORE Program at the time they normally do. Rehearsals for Bands and Ensembles, in the majority, will take place at their regular times (ie after school).
Does my child need any special equipment to take part in this program?
Your child will need an electronic device, Macbook or iPad to access the content which will be uploaded onto Stile and to communicate in live discussions via Microsoft Teams / Zoom.
Depending on the program, they will require the equipment they would normally use for the activity. (E.g. musical instrument, sporting equipment). Students will need access to a safe physical environment clear of any obstructions and with sufficient room to complete their activities. Where possible, program leaders will offer equipment variations and suggestions to make it simple to engage in these programs from home.
Will my child get to connect with teachers / coaches / leaders / students in real time?
Yes, there are many opportunities for students to connect with both staff and students within this program via the Microsoft Teams and Zoom platforms. Examples include the virtual team 'Bus Rides' (see below for more information), SRC meetings, band and ensemble rehearsals, live sport training and much, much more.
What are the key phases of the Overnewton Online Co-Curriculum program?
CORE: a compulsory weekly program which is predominantly sport focussed (11 unique sporting choices and Cheer Sport). Students can engage with elements of the Encore (5/6 Musical and SS Penman Theatre Group) and Synergy Programs (Year 9 and SS) within this phase.
CONNECT: refers to meetings, rehearsals and showcases. Involvement in the Connect phase is voluntary for students in Years Prep – 12. Activities are led by the leaders of the Co-Curriculum but can also include wellbeing, pastoral care and facets of the House program.
There are an incredible number of CONNECT programs which are currently still taking place 'beyond the classroom', albeit delivered differently, at Overnewton. There are a huge number of students engaging in these programs, before, during lunchtime and after-school. This calendar is a visual representation of how groups across the College are uniting for a common passion and staying connected.
CLUB: Clubs are accessible to all students from Prep -12 and refer to age appropriate activities, which are designed and delivered by some of your favourite teachers. A variety of activities will be uploaded to Stile each week. The activities are designed for fun, to be completed independently, by choice, in your own time.
Which programs can Junior School / Middle School / Year 9 / Senior School students engage in?
Students from Years 5-12 will be provided will engagement opportunities from the CORE, CONNECT and CLUB phases.
Junior School students can engage in CONNECT and CLUB offerings.
Which programs are compulsory?
The CORE Program is a new take on the Co-Curricular block which takes place within the weekly timetable.
Participation is compulsory for students in Years 5 – 11, optional for Year 12's.
The CORE Program takes place on the following days:
Years 7/8 - Tuesdays from 1.30pm
Years 10-12 – Wednesdays from 1.30pm
Year 9 - Thursdays from 1.30pm
Years 5/6 - Fridays from 9.00am
Students will receive a 'Bus Outline' each week, detailing their 'real time' connection session with program leaders.
What is the 'Bus Ride?'
The 'Bus Ride' is a key component of the compulsory CORE program and can be described as series of guided chats which are real-time connection opportunities for students with shared interests.
A 'Bus Outline' will be shared to detail the team groupings, leader detail and session time.
Each week, students will meet online with their bus leader and teammates to see and talk to each other, share experiences and discuss the new world of sport / activity in their current lives.
The 'Bus Ride' will be an opportunity for Roll Call to take place and a fun way for students to see their teammates.
How will College Sport / Music / Theatre / Oratory / Community Service Programs be offered in a home learning environment?
The Overnewton Online Co-Curricular Program endeavours to capture the essence of the 'beyond the classroom' opportunities we know and love and find creative ways to learn, connect, be active, feel challenged and have fun together in a home learning environment!
Previously Released Videos