iPad Specifications
Students in Years 3 to 8 in will require the following as a minimum:
an iPad or iPad mini running iOS11
a minimum of 16GB storage
WiFi only

What screen size iPad does my child need?
A driving philosophy behind our Personal Learning Technology initiative is an emphasis on personalising the learning. The preferred size of the display or screen is one area for you to consider. There are four sizes available: 7.9 inch - iPad Mini, 9.7 inch – iPad, 10.5 inch or 12.9 inch – iPad Pro. Either the iPad mini or the iPad is sufficient for school needs. We recommend that you look at and compare all options to arrive at your personal choice.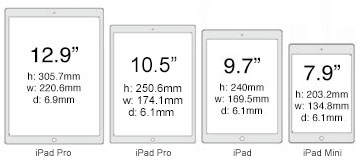 How much storage (GB) does my child need?
The storage capacity is an important consideration. The options start at 16GB, which will be sufficient, and range through 32GB, 64GB, and finish at 128GB. Storage will always be limited and managing this is a life skill we want students to learn.