Year 9 Centre, Canowindra Campus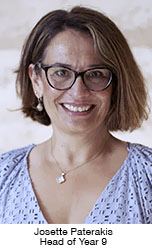 Year 9 is made up exclusively of Year 9 students and a small team of specialist staff working and learning together.
Structure and organisation
The Year 9 staff members specialise in the needs of middle adolescents aged 14-15. They see the student as a whole person, an individual who needs adult support and guidance during one of the most important growing stages of their life. Students continue to move from a dependent stage in their development into a more independent stage. Teachers help them to make the transition through this stage of their adolescence as smoothly as possible and at the same time, help each one become a lifelong learner and gain strong Christian values..
Pastoral Care Program
The Year 9 Pastoral Care Program enables teachers to cater for the needs of the early adolescent. Each student belongs to a Home Group and has the support of a dedicated Home Group Teacher. These teachers have a significant amount of contact per week with their students, including Pastoral Care sessions. Every effort is made to reduce the number of teachers a student has during the week to ensure students and teachers have the opportunity to develop positive relationships and learning environments. The program focuses on the values of respect, excellence, learning and community. It aims to promote student wellbeing and facilitate strong social relationships within Year 9 and among the broader community. Topics covered address general organisation, conflict resolution, resilience, self-reflection, and respectful relationships.
Home Group Teachers are the first point of contact between school and home. They are responsible for the general wellbeing of the students in their charge. Teachers are well-informed of the individual needs of students. They liaise with parents and other staff members to ensure that the students' special needs are addressed.
Student Leadership
Student Leadership is structured to take into account that Year 9 is a year of great change and growth for most of our students. Traditional models of leadership lock students into roles from early in the year. The Student Leadership Elective provides students with a framework for leadership skill development but all students are invited to contribute their service, ideas and skills at any point through the year.
As members of the Year 9 Leadership Team, students will have creative ownership to develop unique and relevant opportunities that could best support each of the eight portfolios based on the College Values of Learning, Excellence, Community, Respect and Co-Curricular Shields: Encore, Be Heard, Activate, Synergy.
The Leadership Team meets regularly to allocate roles and responsibilities amongst its members and discuss initiatives that could be implemented to enhance the Year 9 experience for all students.
For more detailed information please use the SCHOOLS tab in the menu bar above.