Sustainability
Our Sustainability Vision
Overnewton Anglican Community College acknowledge the current climate emergency we are facing as a community and are committed to acting to avoid the worst impacts of climate change. We will take a future-focused approach to implement sustainable practices to reduce our ecological footprint in all areas of our college community.
We honour and draw upon the knowledge of the Marin Balluk people and their relationship with land, while we educate our community on the importance of looking after our environment.
Background
In 2019 Overnewton signed up to the Victorian Government Resource Smart Schools (RSS) program. This program is designed to support schools to embed sustainability across the school facilities, community and curriculum, while saving resources and money for the school.
The RSS program complements and aligns with the goals of the Co-Curriculur Pillar, Synergy. The Synergy Program demonstrates a commitment to service learning, as students learn to be influential within local, national and global communities.
We are currently working towards gaining our first star by completing the RSS core module. The core module actions set the groundwork for Overnewton's sustainability journey, assists to evaluate where the College is and where it wants to get to, and how it will get there. The module involves three key areas for action:
Workplace/operational - Identifies how the college is approaching sustainability by gathering baseline data, reviewing curriculum, infrastructure and daily operations and recognising prior achievements and opportunities for improvement.
Learning and teaching - Building sustainability into teaching and learning to embed sustainability into the curriculum.
Whole school community engagement - Communicate with the school community about the fantastic work and share learnings to demonstrate leadership in sustainability.
Overnewton wins ResourceSmart Schools Award 2023


This award celebrates student teams that best demonstrate environmental leadership. Holding weekly meetings, Overnewton's 'Waa's Helpers' remain determined to promote positive environmental change. This has included presenting at the North West Communities for Climate Action Conference, attending the Schools Strike 4 Climate, and regularly providing sustainability updates during school assemblies, on social media, and even in the local press.
A remarkable sustainability journey from the school yard to the UN.
In less than two years Overnewton has achieved 1 Star status, connected with environmental networks, and spread our enthusiasm through the community. The student Sustainability Team, along with Head of Synergy, Sasha Koomen, and parent, Stephanie Mitten, have worked together to develop an Environmental Management Plan. Together they have extended the scope of sustainability by engaging staff in development opportunities.
Read more about Sustainability Victoria's ResourceSmart Schools Award Winners for 2023 here
Sustainability Team Update - Semester 1, 2023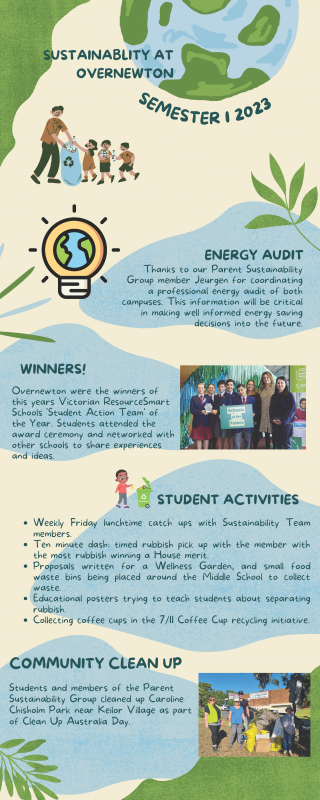 Sustainability Team Update - Semester 1, 2022

Sustainability Team Update - Semester 2, 2021

Sustainability Team Update - Semester 1, 2021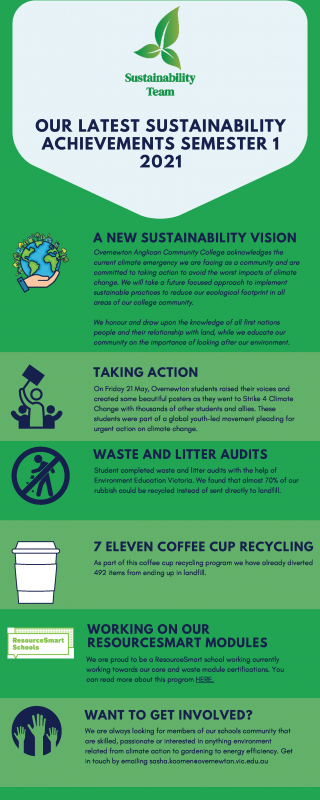 Get Involved
If you are a student or a parent and would like to join the Sustainability Team please contact Sasha Koomen