Sustainability
Our Sustainability Vision
Overnewton Anglican Community College acknowledge the current climate emergency we are facing as a community and are committed to acting to avoid the worst impacts of climate change. We will take a future-focused approach to implement sustainable practices to reduce our ecological footprint in all areas of our college community.
We honour and draw upon the knowledge of the Marin Balluk people and their relationship with land, while we educate our community on the importance of looking after our environment.
Background
In 2019 Overnewton signed up to the Victorian Government Resource Smart Schools (RSS) program. This program is designed to support schools to embed sustainability across the school facilities, community and curriculum, while saving resources and money for the school.
The RSS program complements and aligns with the goals of the Co-Curriculur Pillar, Synergy. The Synergy Program demonstrates a commitment to service learning, as students learn to be influential within local, national and global communities.
We are currently working towards gaining our first star by completing the RSS core module. The core module actions set the groundwork for Overnewton's sustainability journey, assists to evaluate where the College is and where it wants to get to, and how it will get there. The module involves three key areas for action:
Workplace/operational - Identifies how the college is approaching sustainability by gathering baseline data, reviewing curriculum, infrastructure and daily operations and recognising prior achievements and opportunities for improvement.
Learning and teaching - Building sustainability into teaching and learning to embed sustainability into the curriculum.
Whole school community engagement - Communicate with the school community about the fantastic work and share learnings to demonstrate leadership in sustainability.
Latest News
Parent Education Evening - Craig Reucassel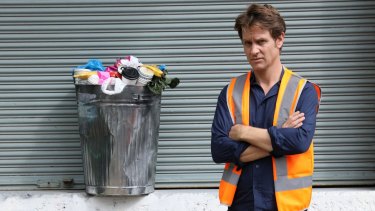 Our final Parent Education Evening for 2021 promises to be a special one as we have secured writer and comedian, Craig Reucassel, best known for his work on The Chaser and War on Waste. Craig will speak about the importance of sustainability within schools, how a school community and how we can personally make an impact, through his own personal experiences, specifically War on Waste.
Craig will be joined by our College Head of Synergy, Sasha Koomen, who has developed our School Environmental Management Plan and Overnewton parent, Stephanie Mitten, who is Government Liaison Lead at Sustainability Victoria.
This event will be presented via Zoom webinar and will be held on Monday 25 October at 7:00pm.
You can access the webinar here
Please note that this online Parent Education Evening will attract 2 hours toward the Family Involvement Program for each family who attend.
Sustainability Team Update - Semester 1, 2021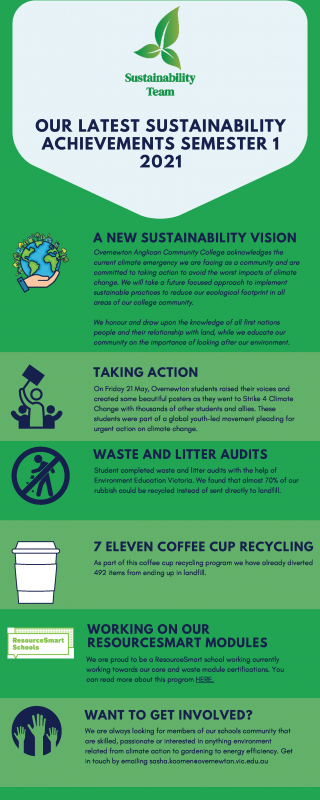 Get Involved
If you are a student or a parent and would like to join the Sustainability Team please contact Sasha Koomen