Middle School - Year 5 to Year 8, Yirramboi Campus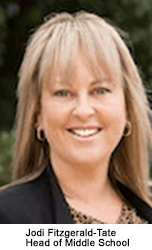 About Middle School
The Middle School is a learning community with a specific program that caters for the academic and the personal development of students from Year 5 to Year 8.
The Middle School carefully guides students through early adolescence and helps them develop a sense of identity. It provides an innovative, engaging curriculum in a supportive Christian environment.
Experienced dedicated educators who have a deep understanding of early adolescence and pedagogy teach in the Middle School. They see the child as a whole person, an individual who needs adult support and guidance during one of the most important growth stages of a person's life. The Middle School teachers help the individual make the transition from early to middle adolescence as smooth as possible. The staff work closely in partnership with students and their families to assist the development of each individual.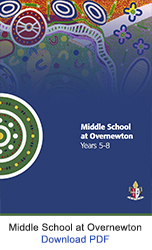 In the Middle School students are supported and extended in a variety of ways. The Learning Development and Support teachers formally assess student progress and provide advice, guidance and instruction in relation to individual needs. These teachers work collaboratively with the Middle School staff and families in developing and implementing an educational program that caters for the needs of individual students.
The College Head of Talent and Potential supports the identification and tracking of High Potential learners. This leader works in conjunction with the Middle School staff to provide a differentiated program of enrichment and extension for identified students.
Pastoral Care
Pastoral Care in the Middle School is a priority and is based on positive relationships. Each student belongs to a Home Group and has a Home Group Teacher with whom they spend a significant amount of contact time per week.
The Home Group Teachers are responsible for the general wellbeing of the 26 students in their charge. The Home Group Teachers develop a relationship with each student, which enables them to know each individual academically and personally. They liaise with parents and other staff members to ensure that the students' individual needs are addressed. Home Group Teachers are the first point of contact between school and home.
A well developed sequential transition program is essential and ensures the smooth transition into the Middle School and into Canowindra. This enables the seamless progress of students within our Prep to Year 12 College.
Curriculum
The Middle School has an engaging and sequential curriculum and co-curricular program. The Australian Curriculum forms the basis of the innovative Middle School curriculum that builds breadth and depth of students' skills, knowledge and understanding across a range of subject areas.
Middle School subjects areas offered include;
English
Humanities
Languages - Mandarin / German / Indonesian / English Study Skills
Mathematics
Performing Arts
Physical Education / Health
Religious Studies (RaVE)
Science
Sport
Visual Art
Technologies
The curriculum is supported by the homework policy, the camps program and the co-curricular program.
For more detailed information please use the SCHOOLS tab in the menu bar above.